China's PM Wen says economic ascent not a threat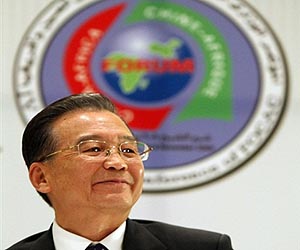 Australia to boost military ties with China
Sydney (AFP) April 28, 2011 - Australia will host more Chinese warships and increase live-firing and other defence exercises with the Asian powerhouse in a bid to boost ties, Prime Minister Julia Gillard said Thursday. Speaking to Australian media as she wrapped up a North Asia tour, including her first visit to Beijing as leader, Gillard said she discussed greater military cooperation during "friendly" talks with President Hu Jintao. "(We) indicated a preparedness to keep discussing defence co-operation," she told the Sydney Morning Herald. "We have indicated we are open to ships visiting Australian ports (and) there's some prospect that there will be some visiting before the end of the year.

"It's a few small steps on a journey to better understanding each other's military perspectives." The United States and its allies have expressed concern over the motivation behind the Chinese military build-up and called for greater transparency. Australia's 20-year defence plan, released in 2009, saw China on track to become Asia's dominant military power "by a considerable margin," but warned that the "pace, scope and structure" of its expansion could create tensions. Beijing was troubled by the assessment, which was echoed in a foreign policy poll in Australia this week that found 44 percent of respondents believed China would become a military threat in the next two decades. Of those, 87 percent said this would be because Australia would be drawn into any conflict with China as a US ally.

Gillard said increased military transparency was key to combating tensions by helping to "build understanding about people's military methods and military protocols". Defence cooperation was already being boosted, she added, "taking the form of discussions between counterparts. It is also taking the form of some shared exercises, including live firing exercises." "The best way of working through these issues is to, at a step at a time, engage in increased co-operation and links," said Gillard, in separate remarks to The Australian newspaper. China is Australia's largest trading partner, buying mostly raw materials such as coal and iron ore crucial to the Asian giant's rapid industrialisation.
by Staff Writers

Kuala Lumpur April 28, 2011

Prime Minister Wen Jiabao on Thursday said China's economic progress will benefit all its trade partners and its economic ascent should not be regarded as a threat. "China's development presents opportunities to Malaysia and other regional countries. It does not pose a challenge neither is it a threat," he told a gathering of industry leaders in the Malaysian capital Kuala Lumpur. China has leapfrogged Japan to become the world's second largest economy. Earlier Malaysia and China signed a slew of economic agreements, reinforcing an uptick in relations and a bid to identify new areas of regional economic cooperation. The deals, witnessed by Malaysian premier Najib Razak and his counterpart Wen, will see the setting up of power plants and an aluminium smelter as well as other infrastructure projects in Malaysia. "Today's signing to expand and deepen economic and trade cooperation signifies a deep commitment between the two governments to identify new areas of economic collaboration that should stimulate more trade and investment between both countries," Najib said after meetings with Wen. "We are very confident that given (Wen's) strong leadership that China will continue to grow and provide strong impetus for global economic growth," he added. Wen arrived Wednesday for a two-day visit and will head to neighbouring Indonesia later Thursday. The Chinese premier said that "the development of an equal and beneficial relationship would bring greater benefit to both countries." "China appreciates Malaysia's role in enhancing the ties of China with other ASEAN (Association of Southeast Asian Nations) countries," he added. "China agrees it will continue to import palm oil and will also import frozen durians (from Malaysia)." Najib, who is also the finance minister, announced that the central Bank Negara Malaysia will establish a representative office in Beijing to facilitate trade in local currencies. It has offices in London and New York. Yeah Kim Leng, group chief economist with RAM Holdings Bhd told AFP that the setting up of the central bank office in China will boost trade and investment. "It will bolster economic ties and remove currency risk in respect of the unstable US dollar. It will allow two-way trade to be settled in each other's currencies," he said. Thursday's agreements follow the signing of a joint action plan on strategic cooperation by Najib during a trip to China in 2009. Wen's trip follows a visit by China's President Hu Jintao in 2009. The visits have resulted in the signing of a several deals which saw Malaysia issue a commercial banking licence to Industrial and Commercial Bank of China (ICBC) in late 2009. Last January, China's leading power grid operator SGCC and Malaysian development fund 1MDB announced plans to establish hydropower plants and a massive aluminium smelter worth $11 billion in Sarawak state on resource-rich Borneo, an island split between Malaysia and Indonesia. China was Malaysia's largest trading partner last year with trade worth $45.66 billion, making the economic powerhouse Kuala Lumpur's second largest export destination and largest source of imports. Malaysia has been China's largest trading partner in ASEAN since 2008.
Share This Article With Planet Earth
Related Links
Learn about the Superpowers of the 21st Century at SpaceWar.com
Learn about nuclear weapons doctrine and defense at SpaceWar.com
Panetta to Pentagon in Obama shake-up
Washington (AFP) April 27, 2011

President Barack Obama will Thursday name CIA director and Washington powerplayer Leon Panetta defense secretary, reshuffling his security team at a pivotal moment for US military strategy. Panetta, 72, will replace Robert Gates, who retires as Pentagon chief on June 30, and Obama plans to recall talismanic General David Petraeus from Afghanistan, who will end a decorated military career to ... read more