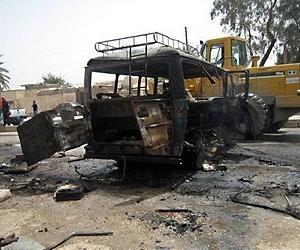 Police and civil defence gather at the site of a bus explosion in Iskandiriyah. Photo couresty AFP.Five policemen killed in Baghdad blasts near church
Baghdad (AFP) May 11, 2010 - Two bombs near a church in Baghdad killed five policemen and wounded 14 others late on Tuesday, an interior ministry official said. The first explosion struck near the Athureen church in the south Baghdad neighbourhood of Dora at about 9:30 pm (1830 GMT), but did not result in any casualties. A few minutes later, when police reached the scene to investigate, a second bomb detonated, killing five officers and wounding 14 others. The violence came a day after a devastating series of attacks killed 110 people in the country's bloodiest violence this year, unrest blamed on Al-Qaeda and leading to charges of negligence on the part of the Iraq's security forces.

Iraq squatter camp population on the rise: UN
Baghdad May 11, 2010 - The number of Iraqis who have fled their homes that are reduced to living in squatter camps has increased by 25 percent in the past year, a senior UN diplomat told AFP on Tuesday. Daniel Endres, Iraq representative for the UN High Commissioner for Refugees, said the total number of internally diplaced persons (IDPs) in Iraq officially remained at 1.5 million. But he acknowledged that that figure was out of date and could actually be lower as many had returned to their homes in the past two years.

"The number of IDPs in Iraq is 1.5 million, but of these 1.5 million, around 500,000 live in squatter camps," Endres said, noting that most IDPs live with host families. He added that the number in squatter camps had increased from an estimate of around 400,000 a year ago. Of the half million IDPs living in camps, an estimated 260,000 are in Baghdad. "Many people (living in camps) have run out of resources and, if there is nothing left, they end up in these places," he said. The UNHCR's figures for the numbers of IDPs living in camps are similar to those released by aid group Refugees International in a report in March.

In its report, Refugees International said the Iraqi government was doing little, if anything, to help the displaced. It urged the United States to step in and take up the slack because it "bears special responsibility" for the looming humanitarian crisis. Endres said that the Iraqi government has "given them (IDPs) occasionally, some stipends for six months." "But in the last two years, IDP families have received one cycle of six-month stipends, if they were registered -- that's it."

Endres estimated that the stipends varied between 150,000 and 300,000 Iraqi dinars (130 and 260 dollars) per family per month, and noted that some stipend payments had been delayed by as much as a year. "That's the harsh story right now," he said. He added, however, that around half a million displaced Iraqis had returned to their homes in the past two years. Around 80 percent of those who returned home were internally displaced, while the remainder returned to Iraq from overseas.

According to Endres, 60 percent of the 500,000 went to Baghdad, while a further 30 percent went to Diyala province, northeast of the capital. "In Diyala, 400 villages were completely destroyed," he said. "People went back to their ravaged houses, but there was nothing to go back to. ... You just can't believe it." UNHCR has so far built 3,000 two-room homes in 62 of the villages, Endres said, adding: "It goes in stages, because people come back, so we build a house for them, then more come back, so we have to do another round. "But the first round we did, that encouraged others to return."
Iraqi security forces faced charges of negligence on Tuesday after a devastating series of attacks blamed on Al-Qaeda killed 110 people a day earlier in the country's bloodiest violence this year.

Around five dozen bombings and shootings shattered a lull in unrest, in a setback as Iraq moves closer to forming a government two months after a general election seen as crucial to US combat troops leaving the country by August 31.

The government pinned the blame on Al-Qaeda while Iraq's deputy interior minister conceded that the nation's security apparatus was at fault and an inquiry into its shortcomings was under way.

"There were security violations because of weak inspection measures" at checkpoints, Hussein Ali Kamal told the Bayan newspaper, which is close to Prime Minister Nuri al-Maliki.

"Security leaders will be held accountable for these incidents and will find out who was negligent."

A posting on a prominent jihadist website said the Islamic State of Iraq (ISI), the Al-Qaeda front in the country, was behind at least some of Monday's carnage, but it did not amount to an official claim of responsibility.

The deadliest attack saw two suicide car bombs detonate simultaneously in the car park of a textiles factory in the Shiite central city of Hilla, as workers boarded buses to go home.

A third car bomb exploded minutes later and a fourth explosion -- in a coordinated operation typical of Al-Qaeda -- engulfed emergency workers who were treating victims at the scene.

Hospital officials in Hilla said on Tuesday that the toll had risen to 53 people dead and 157 wounded.

The toll from three car bombs which struck two markets in the southern port city of Basra also rose -- to 25 killed and 223 wounded -- security officials said.

Attacks also targeted security checkpoints in Baghdad, a Shiite mosque in Suwayrah, 60 kilometres (40 miles) southeast of the capital, the former Sunni insurgent bastion of Fallujah, Iskandiriyah, south of Baghdad, and near Tarmiyah, north of the capital.

In total 110 people were killed and more than 500 wounded, the highest death toll since December 8 when 127 people were murdered by five vehicle-borne bombs in Baghdad.

The United States led international condemnation of the violence, saying opponents of progress in Iraq were making "one last charge" at fomenting chaos.

In Baghdad, defence ministry spokesman Major General Mohammed al-Askari said Al-Qaeda was to blame for the attacks -- 59 in nine locations according to the interior ministry -- in what amounted to retaliation.

"These bombings carry the fingerprints of Al-Qaeda," he told AFP.

Askari was referring to an Iraqi-US military operation last month that killed Abu Omar al-Baghdadi, political leader of Al-Qaeda in Iraq, and Abu Ayub al-Masri, an Egyptian militant and the group's self-styled "minister of war."

"It is logical that Al-Qaeda commits more than one terrorist attack in different cities ... to send a message that says: 'We can commit attacks in different areas at the same time,'" he said.

A posting on the Hanein jihadist website said the ISI killed 33 (Iraqi) soldiers in a series of attacks in Baghdad, Fallujah, Diyala province and other areas on Monday.

Although violence has dropped in the past two years, the latest unrest will be seen as evidence that insurgents remain capable of wreaking carnage on a grand scale while the country grapples with political upheaval.

Britain's ambassador to Baghdad, John Jenkins, on Tuesday urged politicians to form a strong government quickly "that can act decisively to prevent any return to the levels of violence witnessed in Iraq in recent years."

Electoral officials said on Sunday that results from the March 7 vote were nearly finalised, with totals from all but one province sent for ratification. A recount in the lone exception, Baghdad, is due to be completed by Friday.

Monday's violence came after figures showed the number of Iraqis killed in violence in April fell slightly month on month but was almost unchanged from 12 months ago -- 328 people died as a result of attacks last month.

In fresh violence on Tuesday, eight people were wounded as a car bomb exploded near an army checkpoint in Fallujah.